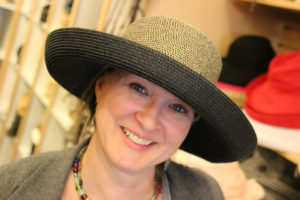 Welcome to my adventure. I am Deborah Wright, an artist, quilter, cook, decorator, jewelry maker and soap maker. I have a Bachelors degree in Graphic Design – although I use it mostly in my quilting – and a Masters in Marketing. I live in central Ohio with the greatest husband in the world, D—, and an ornery cat.
During the day, I work for a major financial services company as a spreadsheet reporting guru and administrative assistant. I also have a thriving handmade soap business and a start-up stuffed pumpkin business. (Here's my shameless plug. Go to genoasoap.com and see all the things I make during another sizable chunk of my time.) So fitting everything you find on these pages in the time that remains can be a real challenge. The quilting is one of the few ways I sit still. Although with all the popping up and down I do to lay out pieces and iron them, there are days where I feel like a jack-in-the-box. But with every one of them, there's nothing like that feeling I get when the project is finished, and I sit back and say, "Look at what I did! Wow, cool!" That's why I do it.
My original tag line for this blog was "50 is the new 30". It came from the thought that I am just as active now as I was when I was in my 30s. Maybe more. Scary thought. I plan to stay that way until something breaks or I actually finish working on my house. Like THAT'LL ever happen!
But now it's more about all the things I do. There's just so darn many of them!
I created this blog to share what I am doing at any given moment. I never seem to be without a project, and this is where you can come to see them all. Maybe you'll get some inspiration, or maybe you'll have an idea for me. So strap in!