I bet this isn't the first image you expected to see for a post on these wonderfully buttery cookies. The truth is that I haven't made them for years. We are trying to keep our sugar content lower (like THAT works real well – Not), but I had a special occasion. D— entered a painting in a local exhibit and was expected to bring a finger food for the reception. So I made snickerdoodles. No chocolate for those who might be allergic, and fun to make. The bonus for the afternoon was that he won Best of Show. I'm sure my cookies had nothing to do with it. (Actually the prizes were all chosen the day before, so I know they didn't.)
I looked online in addition to my trusty Better Homes & Gardens and added a few things together. My cookies were a shade bigger than 2 inches each, so instead of 4 dozen, I had more like 40. And they were mostly eaten in an hour.
Makes about 4 dozen 2-inch cookies
2¾ cups (13.75 ounces) unbleached flour
2 teaspoons cream of tartar
1 teaspoon baking soda
½ teaspoons salt
1½ cups granulated sugar minus 1 tablespoon (10.35 ounces total)
1 tablespoon light brown sugar
16 tablespoons (2 sticks) unsalted butter, softened
2 large eggs
1 teaspoon vanilla
¼ cup (1.75 ounces) granulated sugar (for rolling)
2 tablespoons cinnamon
1 teaspoon grated nutmeg
1. Adjust oven rack to middle position and heat oven to 375 degrees. Whisk the flour, salt and baking soda in a medium bowl; set aside.
2. Beat butter and sugars (except the ¼ cup granulated sugar for rolling) until creamy; add eggs and vanilla. Beat until combined. Add flour mixture and mix until just combined.



3. Mix ¼ cup sugar, nutmeg (This is one of my additions. I just liked the idea.) and the cinnamon in a shallow bowl. Roll approximately a tablespoon of dough into a 1-inch ball; roll ball in cinnamon sugar mixture. Repeat with remaining dough, placing balls 2 inches apart on ungreased baking sheet.

I used a scoop to make sure each ball was the same.

4. Bake until cookies are just set and turning golden brown at edges, 8-9 minutes. (If yours are a bit larger like mine were, you may need to cook them for 11-12 minutes.) Cool cookies on baking sheet for 2 minutes; then, using a wide metal spatula, transfer cookies to a wire rack and cool to room temperature.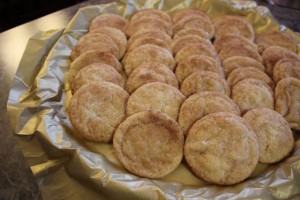 They won't last long!