I'm working on a new quilt. But until I finish it, I thought I'd share some of the things that I really love around my house – besides my husband that is. Let's start in my office…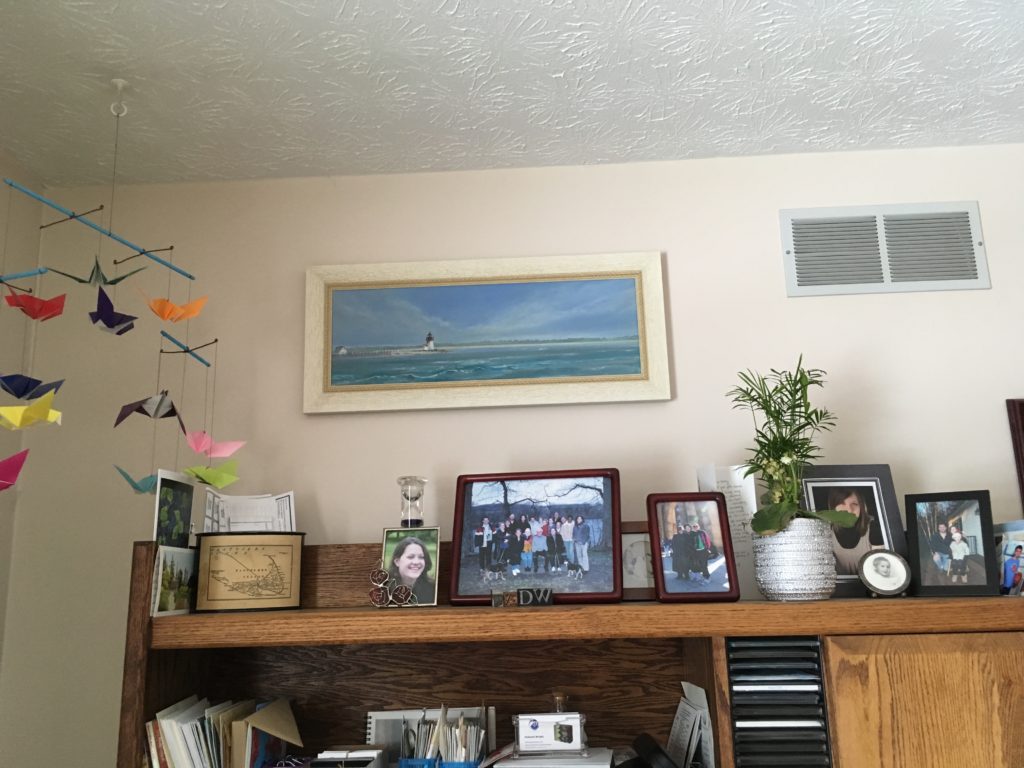 From left to right: a handmade mobile, the Nantucket themed tin I keep mailing supplies in, a painting of Brant Point lighthouse, and family pictures.
My youngest step-daughter made this for my birthday one year. There is an origami bird for every year that we had been part of each others lives. I built the mobile from all the birds she made for me. But I always think of the whole thing as being from her.

I married my previous husband in 1983, One of our invited guests was Fred Rogers, an old family friend. He was unable to come, but he sent this tin and a matching trash can from his summer home on Nantucket. I have special ties to the Island myself, so I treasure this for the place as well as the sender.
More Nantucket. My husband is many things including a wonderful painter. He painted this oil a few years ago, and this month I finally framed it. I really love the rustic white with a more formal gold roping. I sit at my desk every morning before I go to my day job and look at this.
Every member of my family is artistic. My step-daughter loves to draw and requested Copic markers for Christmas a few years ago. We got this as a thank you note.
One of my other favorite places is this cabinet in my kitchen. It has coffee, tea, cocoa, and baking spices. Everything good lives in this cabinet. And the smell that comes out when I open the door never fails to warm me. If I could live inside it, I probably would.