This project is in tandem with, well is the larger part of, the Yellow & Gray Quilt. We have lived in our home for coming up on 8 years now. Our poor guests have had to sleep in the most uninspiring room. It hasn't stopped them from visiting us, but I expect it has them wanting to be in any other part of the house rather than hiding out in the guest room.
Just imagine how much lovelier this room looked when it had the wood duck border around the whole ceiling line. We decided that having D— take the border down was enough for a while. But the fuddy duddy 70s valance has got to go now. The quilt will take a while to do the actual quilting, (that is sandwiching the layers together) and I need some instant gratification. So I decided to do the curtain. But before I show you the start of that, let's take the rest of the tour of this charming room.
The ultimate plans for this room are to replace the closet door with another bi-fold, but one with panels and painted white. All the woodwork inside the room will be white. And for those of you clever enough to spot it, there is a board of yellow test paint in the view from the door that will ultimately be the wall color.
Today, my energy ran to putting up the new curtain rod. I bought the thing from Home Depot – after much searching online – and propped it up in the corner of the room for a few months. No need to rush into this just because I bought the thing, right?
So here we are so far.
And for those of you who want a closer look…
I am a fan of brushed nickel for all the metal work in the house. We changed every blooming light fixture when we bought the place. As I started to change switch plates, I made most of them brushed nickel as well. The doorknobs have all been replaced with brushed nickel levers. So you see the pattern. And if I can find frosted or crackle glass finials for the curtain rods, then that's what I get.
There were some fairly major holes left from the curtain rod I took off, so the next few days will be spent patching and sanding. I'm not ready to paint yet, but the new curtains will hide most of the patching, so again, why rush this.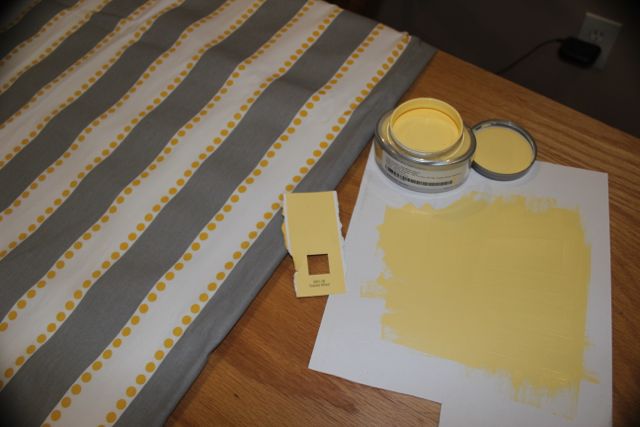 Here's what the curtain fabric looks like. I bought a lining fabric, because once this is done, my guests will want to sleep late. And I'll have to blast them out of the room with the smell of bacon. It should only take me another 3-4 days to get the curtains up. Until then, just ponder how great this room will look…next year when I finally finish the thing.