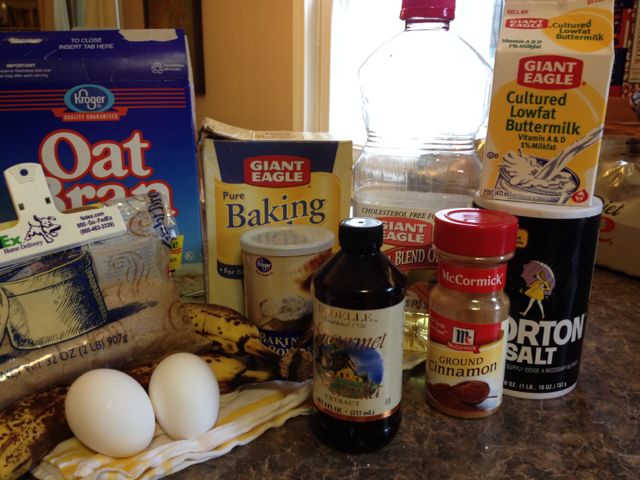 I know you have some overly ripe bananas in your house. We all do. And there are only so many smoothies you can make before you want do do something else with them. Here's a recipe I found elsewhere and adjusted a little bit. It does have some sugar but not a whole lot. The really good bits are whole wheat flour, bran cereal, low-fat buttermilk and of course, the bananas.
I left out the chocolate chips – since I was trying to reduce the sugar – and the walnuts – because I'm not wild about walnuts. Also, I ignored the note the original has about not using bran cereal. Heck, the biggest reason I went searching for this recipe was because I'm loaded with bran cereal. Well, my cupboards are loaded with bran cereal. I put it in dead last though so that it wouldn't turn to mush before the baking was done.
1 dozen muffins | Active Time: 30 minutes | Total Time: 1 hour
Ingredients
2 large eggs
2/3 cup packed light brown sugar
1 cup mashed ripe bananas, (2 medium)
1 cup buttermilk, (see Ingredient notes)
1 cup unprocessed wheat bran, (see Ingredient notes)
1/4 cup canola oil
1 teaspoon vanilla extract
1 cup whole-wheat flour
3/4 cup all-purpose flour
1 1/2 teaspoons baking powder
1/2 teaspoon baking soda
1/2 teaspoon ground cinnamon
1/4 teaspoon salt
1/2 cup chocolate chips, (optional)
1/3 cup chopped walnuts, (optional)
Preparation
1. Preheat oven to 400°F. Coat 12 muffin cups with cooking spray.
2. Whisk eggs and brown sugar in a medium bowl until smooth. Whisk in bananas, buttermilk, wheat bran (I left this out at this stage. See my comment above.)  oil and vanilla.

3. Whisk whole-wheat flour, all-purpose flour, baking powder, baking soda, cinnamon and salt in a large bowl. Make a well in the dry ingredients; add the wet ingredients and stir with a rubber spatula until just combined.
(Okay, so I did this backward. I used my big mixer for the wet ingredients, so I mixed the whisked dry ingredients into the wet ones. Gently. I still didn't add the cereal. We're getting to it.)
Stir in chocolate chips, if using. NOW put in the oat cereal. Stir until just moistened. Scoop the batter into the prepared muffin cups (they'll be quite full). Sprinkle with walnuts, if using.
4. Bake the muffins until the tops are golden brown and spring back when touched lightly, 15 to 25 minutes. Mine cooked for about 20 minutes.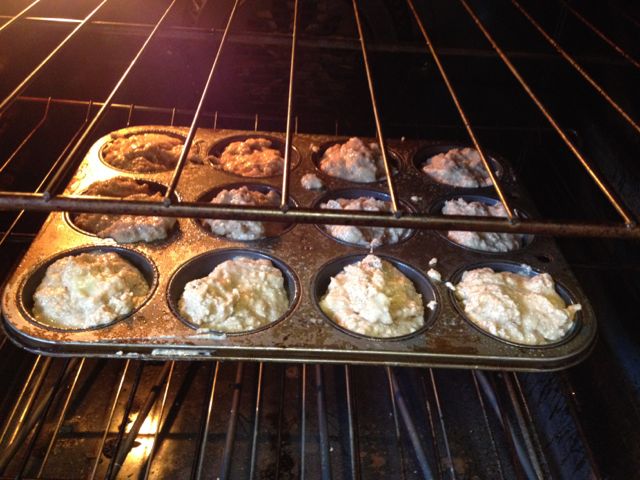 Let cool in the pan for 5 minutes. Loosen edges and turn muffins out onto a wire rack to cool slightly before serving.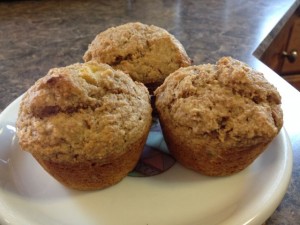 I thought this was really yummy. It was challenging to hold my serving to just one muffin. So sometimes I took one to work with me for a snack. A muffin with melon and coffee for breakfast was just the best!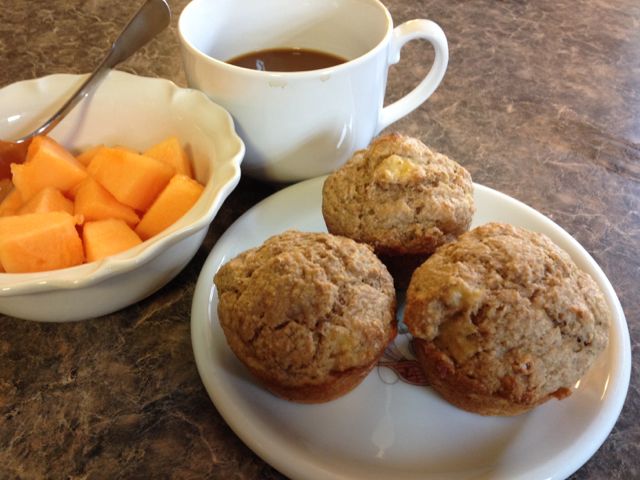 Nutrition
Per serving : 200 Calories; 6 g Fat; 1 g Sat; 3 g Mono; 36 mg Cholesterol; 32 g Carbohydrates; 5 g Protein; 4 g Fiber; 182 mg Sodium; 167 mg Potassium
Ingredient Notes:
You can use buttermilk powder in place of fresh buttermilk. Or make "sour milk": mix 1 tablespoon lemon juice or vinegar to 1 cup milk.
Unprocessed wheat bran is the outer layer of the wheat kernel, removed during milling. Also known as miller's bran, it can be found in the baking section. Do not substitute bran cereal in this recipe.