Two months ago, I said I would probably post about this quilt again in a month. And I could have. I had the border on by then.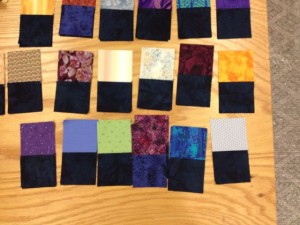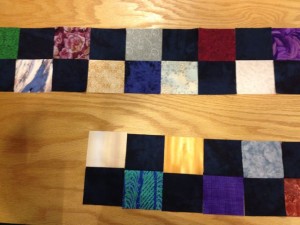 I cut out a bunch of 3-inch squares. Half of them are navy blue and the other half are either colors that were in the t-shirts or colors I thought went well with them. I sewed everything together and stepped back for another look.

It stayed that way for another week or so. Then I added the final plain border. It wasn't interesting enough to take pictures of, so I didn't. The night D— went out to a concert, I stayed home and pinned the front, batting, and back together with safety pins. It all looks very punk when I do that, but I was too tired (and I forgot) to take pictures of that too.
Then it sat around for another month. In the meantime, I finished the guest room and did the half bath. But now all those other big projects are done. And M— has been waiting long enough.
Here's the back:
And here's the finished product: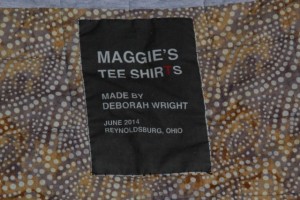 Every quilt gets a custom label. For those who are interested, I quilted it in a plain grid of 3-inches in both directions. I used a smoke colored nylon thread on the top and a variety of blue threads on the back. The back was a hodgepodge of fabrics, so why shouldn't it be a hodgepodge of threads as well? The nylon thread was chosen so as not to compete with the designs in the shirts. The only place it really shows as visible is on the white shirts, and even that isn't so bad.
I hope she gets many years of cuddling in front of the television or with a book under this.
What should I do next?