This has become one of my go-to recipes in blueberry season. You can't add enough lemon in my opinion.
"When blueberries are in season, these muffins make a glorious start to the day. But, even when berries are out of season, they're still pretty sensational. For fresh berries, substitute the kind that are individually quick-frozen and let them thaw slightly before folding them into the batter. (Never use frozen berries packed in syrup.) These muffins are just as delicious when made with wild black raspberries. Adding cornmeal to the batter gives a slight coarseness to the texture, which I particularly like." — Sheila Lukins
1/2 cup (1 stick) unsalted butter, at room temperature (If you forget to soften the butter in advance, as I often do, just pop it in the microwave for 15-20 seconds.)
1 cup plus 2 tablespoons sugar
2 large eggs
2 teaspoons baking powder
1 teaspoon pure vanilla extract
1/2 teaspoon finely grated lemon zest (I use zest from the entire lemon)
1 3/4 cups all-purpose flour
1/4 cup finely ground yellow cornmeal
1/4 teaspoon salt
1/8 teaspoon ground cinnamon
1/2 cup milk
2 1/2 cups fresh blueberries
1. Preheat the oven to 375°F. Grease 12 regular muffin cups or line them with paper liners. I use PAM for baking. Easy and that way you get to eat the whole muffin. No losing any on a paper liner.
2. Using an electric mixer cream the butter and I cup of the sugar together in a large bowl.
Add the eggs, one at a time, beating well after each addition. Add the baking powder and mix well. Add the vanilla extract and lemon zest, and mix well.
3. In another bowl, combine the flour, cornmeal, salt, and cinnamon.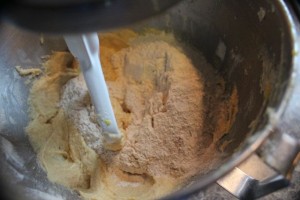 Add half of the dry ingredients to the batter, and mix lightly. Then add the milk and stir well. Add the remaining dry ingredients and stir just to combine. Do not overmix.
4. Fold in the blueberries.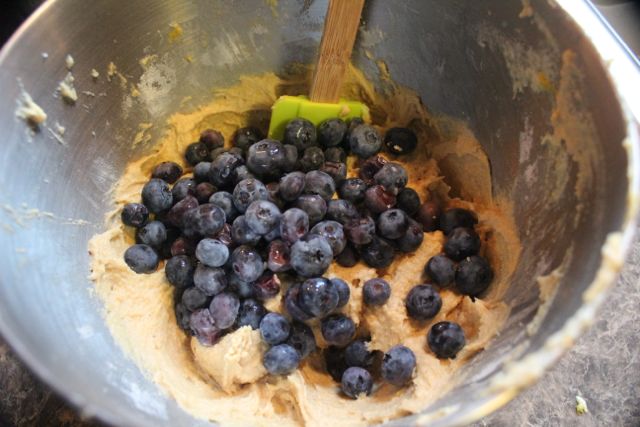 Spoon the batter into the muffin cups, and sprinkle them evenly with the remaining 2 tablespoons sugar. This isn't really optional. It gives the tops a delightful crunch that contracts nicely with the chewy muffin and the soft blueberries.
Bake in the center of the oven until the muffins are golden brown and a toothpick inserted in the center comes out just clean, 25 to 35 minutes.
5. Cool the muffins in the pan on a wire rack for 15 minutes. Then unmold them onto a rack to cool completely. Makes 12 muffins.
from USA Cookbook by Sheila Lukins. Workman Publishing. April 1997