Strictly speaking, this isn't a recipe. Every now and then, it's fun to just do something simple. One of my favorite things is a mimosa. The fact that Mr. Incredible drinks them too is only an added bonus!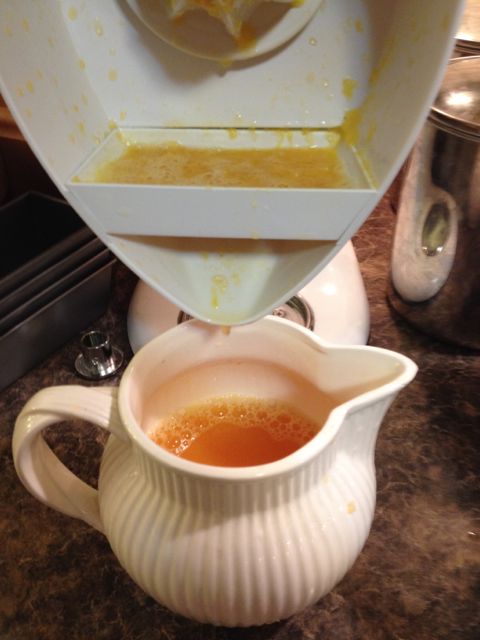 I finally got to try the juicer I got as a birthday present. Thanks Mom! We love our fresh fruits around here, but a lot of the time, they go bad before we can eat them all. So I juiced the dickens out of the bag of oranges we had left. Perfect mimosas.
You can't have the perfect drink without the perfect omelet though. I'm a fan of western omelets, diced ham, red & green bell pepper, and onion. And a bit of white cheddar cheese.
I put my eggs in a bender or beat them together with a handheld mixer. Add a splash of skim milk and a little salt and pepper. Mmm.
I've been trying to replicate the crispy fried potatoes we had in a diner back east. But since I don't usually have leftover baked potatoes hanging around, I couldn't really do it. I did have these bite sized yukon golds. I threw them in the microwave for 10 minutes, sliced them into 1/4″ thick rounds, sprinkled them generously with Mrs. Dash herb mix, and fried them together with some of the bell pepper-onion mix I sautéed for the omelet. Good, but they would be better with day old Idaho potatoes.
Not a pretty omelet, but the taste was right on the money. And breakfast is just never wrong.