Now that the cold weather is here, it's time to make more serious use of all the dutch ovens in the house. Soups and stews. Yessir! I have a chili recipe that I probably got off the label of a can of kidney beans. I've had it for over 35 years though, so I really can't remember.
1 large onion, chopped

1 green pepper, chopped
1 clove garlic, minced
1 pound ground beef
1 large can tomatoes (I like mine diced)
1 8-oz. can seasoned tomato sauce
1-2 tbsps. chili powder
3 whole cloves
1 bay leaf
1-1/2 tsp. salt
2 15 oz. cans red kidney beans, drained
Heat a splash of oil in the bottom of your dutch oven. Sauté onion, green pepper and garlic until tender but not brown. Add meat and cook until lightly brown. Drain off fat.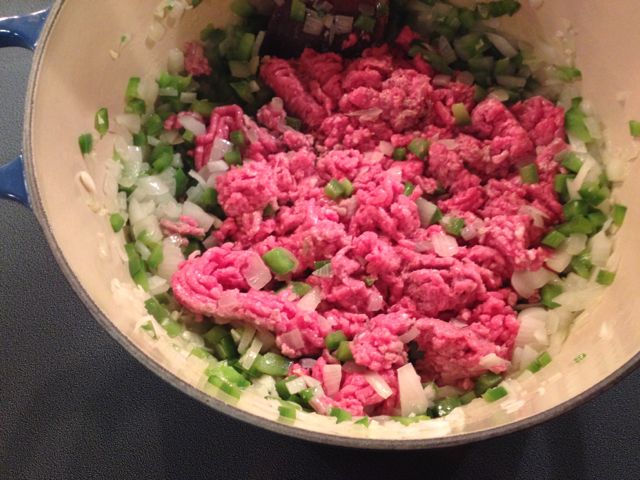 Add tomatoes, sauce, and seasonings. Simmer about 1-1/2 hours, adding water if necessary. Remove bay leaf and whole cloves. Add beans and heat through. Serves 6-8.
TIP:
If you are tasting the chili to see if you added enough chili powder, for heaven's sake remember that the longer it sits, the hotter it will get. So err on the side of caution unless you, like others in my family, have an asbestos tongue. I don't. I prefer my chili on the sweeter side with just a touch of heat.
This is a great base to experiment with. D— prefers his chili with shredded beef instead of ground. I added a 1/2 teaspoon of cumin in with mine as well. The next day, it was too spicy for me, so I added another can of diced tomatoes and more beans. Another thing many people do – although I never heard of this before marrying into a family that did this – is to cook rice and serve it over that. That can cut down on the intensity too.
And don't forget a few bowls of garnishes. Shredded cheddar cheese, thinly chopped green onions, and sour cream or thick Greek yogurt all make great additions. And each person can dress it to suit themselves.
Now all we need is for it to be cold enough to build a roaring fire in the fireplace.