Sometimes you just have to add something new to the Thanksgiving repast. This is from the Nantucket Open-House Cookbook by Sarah Leah Chase. I took them to a family gathering many years ago so that we would have something to nibble while the cook was prepping lunch, which we would all nibble while we were all helping prep dinner. They were such a hit that I have continued to make them regardless of which delegation of family members were are with. I even mailed them to my step-daughter when she couldn't come home for Thanksgiving. They are easy to make ahead and freeze extremely well.
The only change I have ever made to this recipe is to leave out the crystalized ginger. I'm sure it would be totally tasty with it, but I like the smooth texture of muffins without the extra stuff. I also tend to make minis instead of full sized muffins. It's easier to deceive yourself into thinking that you've eaten less this way. One or two bites, and you're done. I also use baking spray instead of paper cups. I don't want to lose a morsel of this tender goodness!
Makes 26 to 28 regular size muffins (or 48 minis plus 10-11 regular)
Ingredients
15 oz unsweetened pumpkin pureé
2 cups packed brown sugar
1 cup unsalted melted butter
4 large eggs
½ cup apple cider
3 ½ cups unbleached flour
2 tsps baking soda
2 tsps baking powder
1 tsp salt
4 ½ tsps ground cinnamon
4 ½ tsps ground ginger
1 tsp grated nutmeg
½ tsp ground cloves
1 cup minced crystallized ginger
Directions
1. Preheat the oven to 350° F. Place paper liners in 28 muffin cups.
2. Stir the pumpkin, sugar, and butter together in a large mixing bowl. Add the eggs and beat until the mixture is smooth. Stir in the cider.
3. Sift the flour, baking soda, baking powder, salt, cinnamon, ground ginger, nutmeg, and cloves into another bowl. Gradually stir the flour mixture into the pumpkin mixture until thoroughly mixed. (Don't over stir. It gets this wonderful foamy texture when it's only just combined that makes for a light fluffy muffin.) Fold in the crystallized ginger until evenly distributed. (That is, if you use it at all.)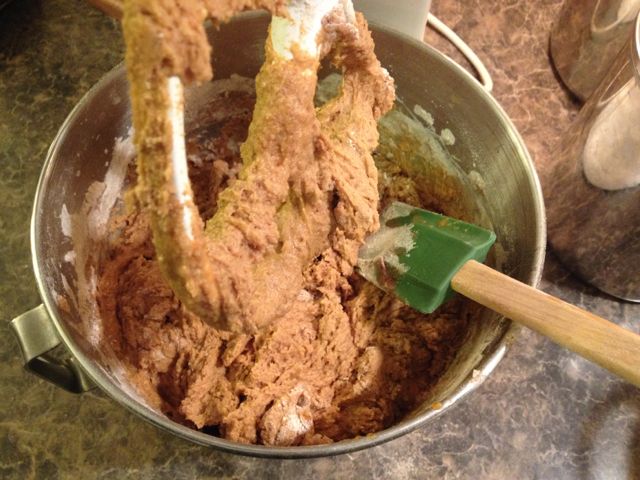 4. Spoon the batter into the cups, filling each cup almost to the top. Bake until puffed and golden, 20 to 25 minutes. If you are making the minis, I usually start at about 10 minutes and add time as they need it. I think it ends up being about 15 until they're done.
5. Cool for a few minutes in the pans, turn them out onto a cooling rack for as long as you can stand it before you just HAVE TO HAVE ONE. Serve warm with butter. (Also totally great plain. In fact, I don't think I've ever eaten them with butter.)