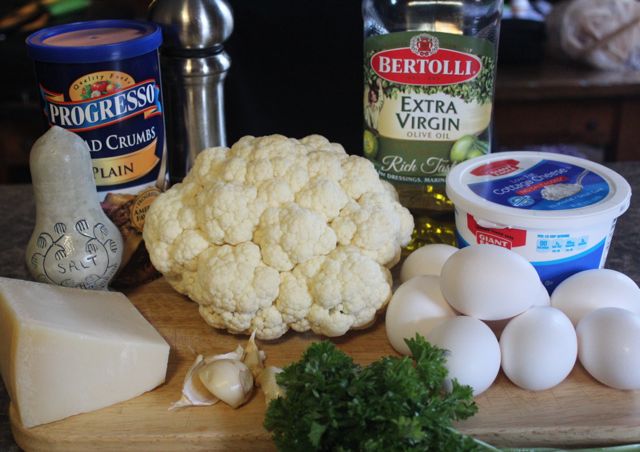 This recipe comes with a caveat. My husband (hereinafter referred to as D—) and I both think this needs some pepping up. I'll share it the way we made it though. I'd love to hear what ideas you have for additions.
1 small head cauliflower, cut into 1/2 inch thick slices (about 2 cups)
4 1/2 tbsp. extra virgin olive oil
salt & pepper
5 cloves garlic, 3 thinly sliced and 2 finely chopped
1/2 cup fresh coarse breadcrumbs
8 eggs (or equivalent egg substitute)
3/4 cup cottage cheese
1/2 cup plus 1 tbsp. grated parmesan cheese
3 tbsp. chopped parsley
Preheat oven to 425°. Grease a 9 inch pie plate (I forgot this part. Big mistake.) On a foil lined baking sheet, toss the cauliflower with 1 1/2 tbsp. olive oil; season with salt & pepper and arrange in an even layer. Roast until tender and slightly browned, 12-15 minutes. (It took a bit longer than this for me, so play it by ear. I wanted a little more brown on my cauliflower.)
Meanwhile, in a large nonstick skillet, heat 2 tbsps. olive oil over medium low heat. Add the sliced garlic and cook until lightly golden, 2-3 minutes.
Add the breadcrumbs, season with salt & pepper, and toast until golden, 5-7 minutes.
In a medium bowl, beat the eggs. Stir in cottage cheese, 1/2 cup parmesan, parsley and chopped garlic. Season with salt & pepper.
Spread the breadcrumbs in the pie plate and top with the cauliflower.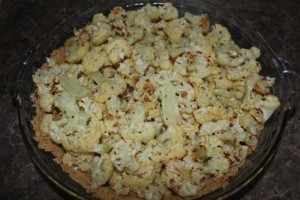 Pour on the egg mixture, gently shaking the plate to settle the mixture. Sprinkle with the remaining parmesan. Bake until set and browned, about 20-25 minutes. Let cool 10 minutes before slicing.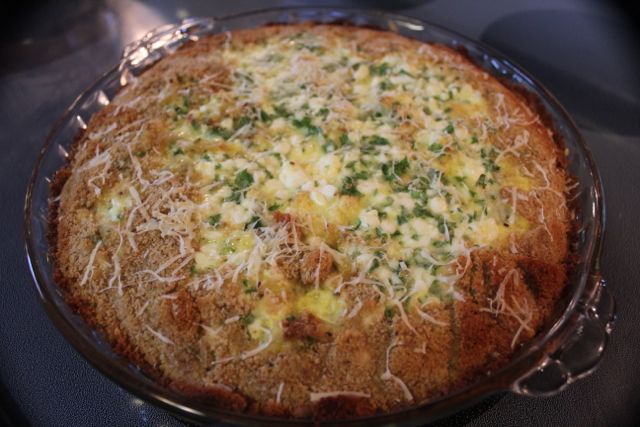 Chef's notes: Teddie thought this needed some zing, so he tried a slice with hot sauce. That didn't really do it. We both like the idea of crumbled bacon, but not too much as we're trying to watch our fat. The parmesan wasn't very noticeable. Maybe Romano instead next time? The addition of more herbs would likely help as well. I'm a fan of some of the Mrs. Dash salt free mixtures.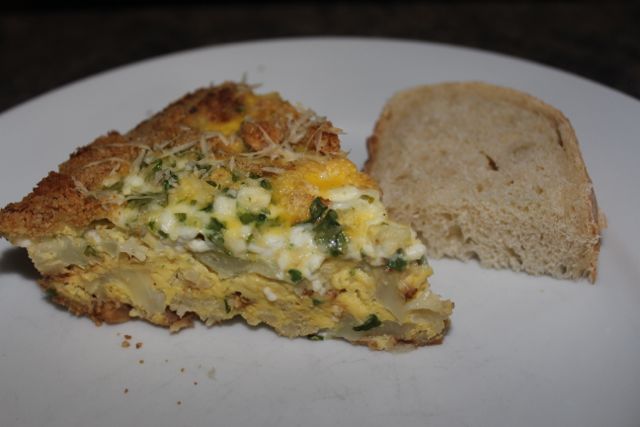 The bottom line on this is that we liked it enough to make it again with some changes. Credit for the original recipe is from Rachael Ray.