One week later…I have all my fabrics cut. It's likely I will discover I have either too many or too few of some.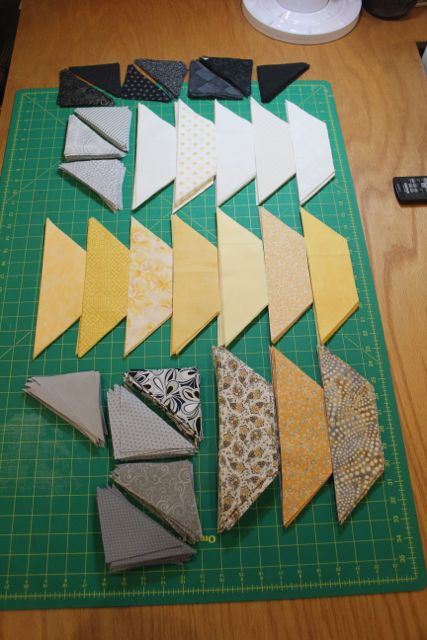 There were templates to use for the pattern pieces, but I'm not a fan of templates unless I have no alternative. So I measured them and laid them out on the back of my gridded rulers.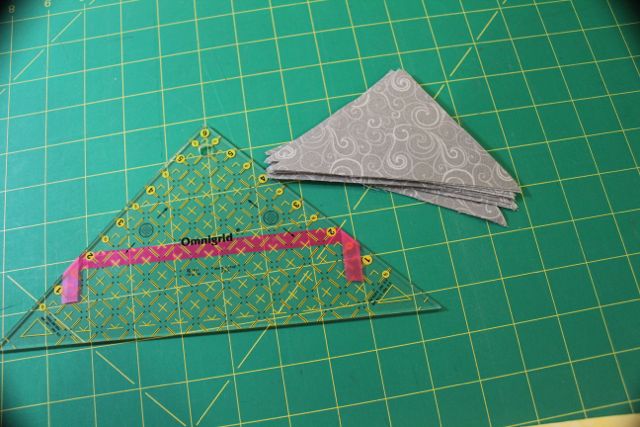 The trapezoids were a little trickier. I cut strips of yellows and whites at 2 3/4″ and then cut the trapezoids from that. This ruler is a 12 1/2″ square. Very versatile.
After I had cut all the blacks, I realized that while the pattern in the book was square, the pattern I designed was on point. Hmmm.
I recalculated and decided that if there were extra pieces, I could always make a throw pillow. It certainly wouldn't be the first time.
Here is the layout of how the shades and colors will go together.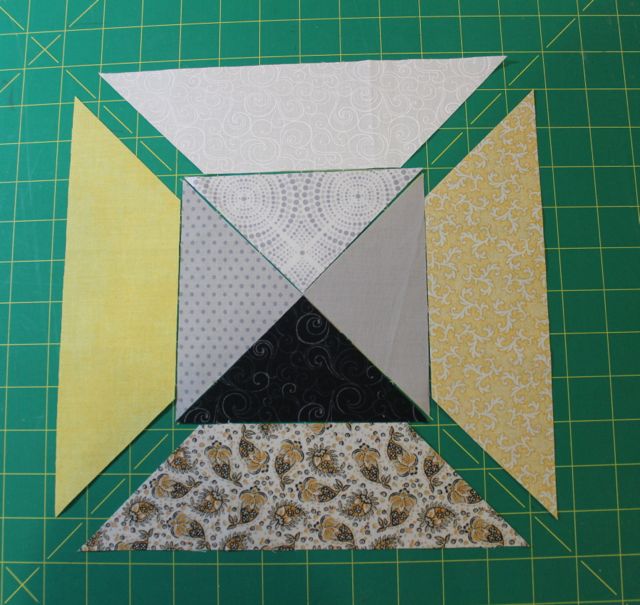 I have the darkest opposite the lightest inner triangle and then the two grays opposite. When it's all together, this should create a 3-dimentional look. The darker yellow is on the same side as the black; the white is on the side with the lightest gray; and the medium yellows are on the sides with the medium grays.
The ironing is very important here. The medium sides are ironed toward the triangle, and the black and white are ironed away from the triangle. When these sections are sewn together, the interior seams will butt against each other and "lock" into position aligning the seams and creating perfect points.
Now I only have to make about 111 more like this. Some of them will only be 1/2 the square and 4 will be 1/4 of the square. The partial sections will fill in the sides when the final assembly is done. It will all become clear when I show you the final layout. Or you could go back to the first post to see the initial drawing.