I can't believe I'm only posting update #3 on this project. It feels like it's been going on forever. Due in no small part, I expect, to the fact that I'm also thinking about how the whole guest room will come together.
I got the curtain fabric a couple of weeks ago. I'd been looking for just the right thing for months though. And anyone who sews knows (cute rhyme, right? sews knows. hee hee) that fabric designs can come and go like the wind. Sometimes they are only out there for 6 months. So if you don't snap them up when you see them, you might lose your chance.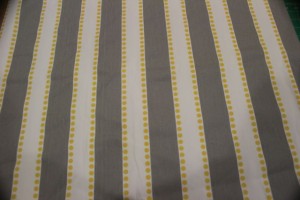 I saw that this had been discontinued on amazon.com where I had bookmarked it, so, quick like a bunny, I ordered it from somewhere else. And then I panicked, because it got back ordered. For all of 10 days. But still, I panicked.
Then I went to Lowe's and got a sample of the color I'm strongly considering for the walls. And by that I mean, I've decided. It would take a lot to get me to change my mind now. The room is only about 12′ x 14′, so I can't go too dark. I like this lemony color a lot.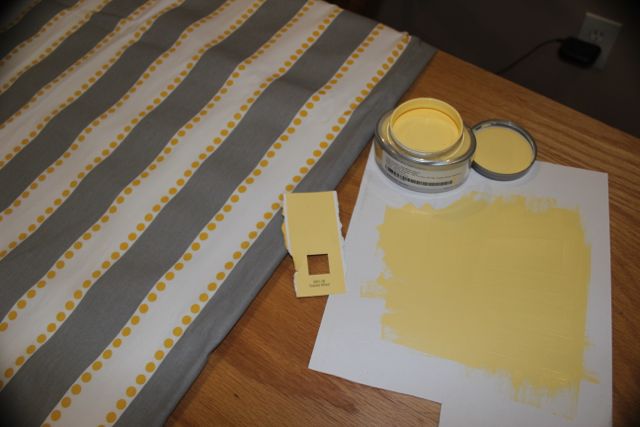 Back to the quilt top, which is half done. You heard me right. This picture only shows you half the top. I ran out of room to spread it out on the floor, so I thought I'd do what I could and then move on to the rest of it.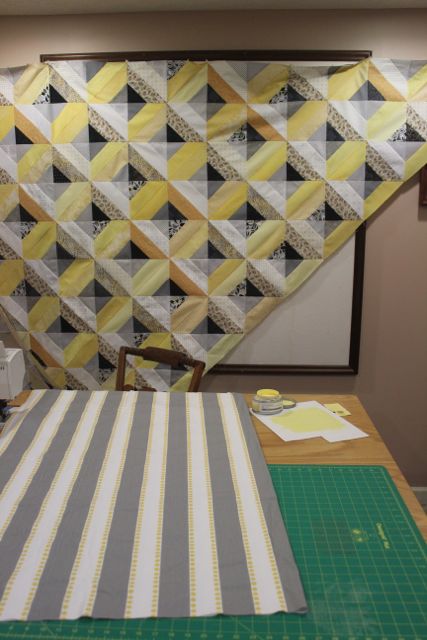 This weekend will be filled with soap and social activities, so I probably won't get any sewing done at all. But after this, I have 2 weekends plus nights during the week to work on the rest of it. This one isn't getting any borders, so as soon as I have all my squares together, I can lay it out on the floor and pin it for quilting. Wahoo!
Then I'll make the curtains.